Custom Closets
Whether you call them dressing rooms or custom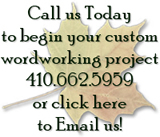 closets, the idea is the same. Lots and lots of storage and room to move around as you get dressed in the morning, or get ready for that special event.
TCS Woodworking can easily turn unused rooms into grand custom closets with custom cabinets, custom doors, custom shelving, all designed to your exact specifications. Are you a shoe lover? We'll build special shelving to showcase your shoes.
Don't have a walk in closet or spare room? We can design and build a storage wall for you to address all of your needs. We can match any existing décor or wood elements such as wood floors, moulding, etc.
Custom Vanities
Whether you have a separate vanity area in the master bedroom or need storage in the bathroom, we design and build custom vanities to your exact specifications. There will be room for linens, toiletries, makeup, cleaning products, you name it.
If you're remodeling your bathroom, that's a perfect time to check out our custom vanities. We'll work closely with other contractors, such as plumbers and electricians, to make sure your custom vanity is made to exact specifications.
---