Custom Bookshelves & Libraries
Custom Bookshelves
If you have a large collection of books for your home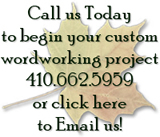 or office, custom bookshelves from TCS Woodworking can highlight your library. We can build a floor to ceiling wall of custom bookshelves, or four walls for a true library. We can also build custom bookshelves with cabinets as well as shelves to help you with your storage needs.
Your custom bookshelves don't just have to house books. We can customize your custom bookshelves for your electronic equipment or to display art pieces. Whether you're looking for sleek and modern or a more formal, Old World feel, we can design and build custom bookshelves that will surpass your expectations.
Custom Bookcases
Custom bookcases can also be standalone pieces of furniture, rather than built-in. We can build custom bookcases that are lower, where the top can be used as a table top of sorts, displaying more books or plants, etc. Lower bookcases are perfect under a window and can be built as part of a window seat.
As with everything we craft at TCS Woodworking, your wood options and finishes are nearly limitless, as are your style options (contemporary, formal, rustic, etc.) Whatever you have in mind, we can build it!
---