Custom Kitchen Cabinets in Maryland
Custom kitchens deserve fine kitchen cabinets. Our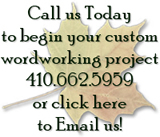 woodworkers hand make custom kitchen cabinets for residents in the Baltimore MD Metropolitan region including Baltimore County, Howard County, Carroll County, Harford County, Anne Arundel County and surrounding Maryland regions.
We work with individual homeowners, custom home builders and interior designers to design and build your custom kitchen cabinets to your specifications, using the wood, finish and hardware you choose.
Your kitchen cabinets are designed to suit your taste and style, and are hand built with impeccable craftsmanship and attention to every detail.  Our woodworking business makes it our priority to understand exactly what you're looking for in your custom kitchen cabinets so that we can help create the kitchen of your dreams.
Custom Cabinets
Truly custom cabinets from TCS Woodworking give you more choices and options than factory built or even semi-custom cabinets, and are ALWAYS better made. Custom cabinets give you more choices in the type of wood used, as well.
TCS Woodworking is the leader of custom furniture and kitchen cabinetry within the Mid-Atlantic regions. Our woodworkers design, build, and install high quality kitchen cabinets using only the best hardware for smooth operation, and the finest grade woods available in the woodworking marketplace today.
When we visit your home to give you q quote, we'll take precise measurements, listen to your design ideas, ask some questions about cabinetry style and trim, drawer and drawer front options, (including glass inserts), drawer box options such as drawer inserts, drawer pullout, etc.
Customized shapes and sizes are available, depending on your needs and tastes. Specialized cabinet and storage options include wine racks, spice racks, pantries, butler's pantry, etc. If you can dream it, we can build it.
Listed below are several views of a Maple kitchen built by TCS Woodworking. This set-up includes an integrated kitchen cabinet front for the refrigerator, a wine storage area, and communications center.